Hi Everyone,
It's March already, time is flying by. My daughter told me how many weeks of school is left until the Easter hols and then how many until the Summer hols and reduced to weeks its frightening how short it seems.
But to make it better I am well ahead with my Christmas cards. What? Do I hear you groan when I mention Christmas,,,,,,don't worry its still a way to go until December but it's fun to make Christmas cards at this time of the year.
These cards were made for the Christmas Fun Challenge which can be found
~
HERE
~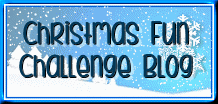 The first one is following the original theme of Bauble and Bows and we are also introducing Anything goes so you can make either.
This one below is for Anything Goes but I just realised it also has some baubles.....designed that way of course :-)
It is a center stepper card and I will do a tutorial later on in the month of how I make them and on changing their size. There are plenty of tutorials around the web if you want to look it up now.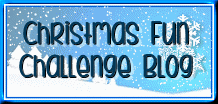 So come along and join in the fun over at the
I look forward to see what you make.